---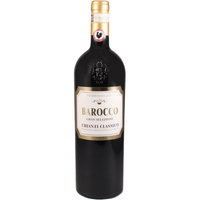 Transparent and very fine purple. Spicy spices immediately emerge, dark berries, ginger and orange peel, sandalwood and anise, roasting and vanilla touch that pave the way for a nice sour cherry note.
Juicy and elegant, with spiciness and strong character. Dense and precise tannins that together with the great freshness and flavor animate a palate where sweetness, spiciness and noble wood toasting find their place. Closure between black pepper and bitter cocoa from Madagascar, black cherries, tobacco and licorice.
Grapes: 90% Sangiovese, 7% Cabernet Sauvignon, 3% Merlot
Alcohol content: 14%
Production area: Tuscany
Denomination: Chianti Classico DOCG
Vineyard altitude: 350/400 m. liv.mare
Soil: the typical soil of Tuscany is rich in clay, limestone and fragmented rocks, the so-called "galestro" and "alberese", located at an average altitude of 350/400 meters. above the sea level. The climate is continental, with relatively low average temperatures in winter (4-5 degrees C), and dry and hot summers in which the mercury column sometimes rises above 35 degrees. We have significant temperature variations during the day, which are partly due to the rather high altitudes.
Vinification: The grapes are hand harvested and selected in the vineyards. The clusters, carried in small bins, are sorted again on a sorting table before going into the de-stemmer. Maceration lasts for about 15 days, with frequent pump-over procedures followed by délestage. Racking and malolactic fermentation ensue.
Refinement: Sangiovese is aged for 18 months in oak barrels, from
capacity of 10-20 Hl, while Merlot and Cabernet Sauvignon are aged in barrique for 18 months.
Serving temperature: 16/18 °C
Food Pairing: Rich, flavourful dishes based on red sauce and red meat, game, stews, truffles and mature cheeses.