---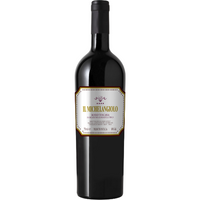 To the eye it reveals a beautiful intense ruby red. The olfactory bouquet is complex,
opened by notes of cherry, currant and strawberry jam, then followed by memories of
licorice and vanilla, as well as herbaceous nuances and references to thyme and laurel.
The palate continues on the same path taken by the nose, revealing itself full,
enveloping and deep. Long persistence.
It tells the territory on the one hand, speaking - through the Sangiovese - of what is a geographical area characterized by ancient and rooted winemaking traditions, and then
express modernity and contemporaneity at the same time, with the softness of
merlot and with the vegetable backbone of cabernet sauvignon.
Il "MICHELANGIOLO", is a Rosso di Toscana that is the result of an aging process
it lasts for one year in oak barriques. Balanced and rich, both in aromas
as for the taste, it is an extremely pleasant Red.
Grapes: Sangiovese 60%, Cabernet sauvignon 20%, Merlot 20%
Name: Toscana IGT
Alcohol: 14%
Format: 0.75l
Allergens: Sulphites
Service temperature: 16/18 °C
Moment to taste it: Dinner with friends - Meditation
Typology: Red
Pairings: Aged cheeses, Main courses of red meat
Vinification: in stainless steel vats it is subsequently aged again in stainless steel vats at a controlled temperature, then it passes into wood and glass. Aged 1 year in oak barrels
Pairings: Perfect to accompany meat main courses, for tasting with cheeses and for meditation.