---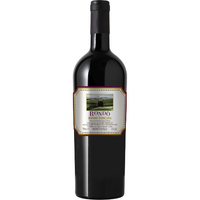 Ruby red wine with marked notes of ripe fruit, cherry, with an elegant floral touch of violet.
Very versatile, ideal if combined with meat and grilled.
Grapes: Sangiovese, Colorino, Merlot, Cabernet Sauvignon
Alcohol content: 13%
Production area: Tuscany
Vineyard altitude: 350/400 m. liv.mare
Soil: clayey, sandy with pebbles.
Vinification: The grapes are usually harvested between the last week of September and the first week of October, according to the characteristic ripening of each variety. The best grapes are then selected and left to dry for a longer period. Once the first fermentation is finished, the dried grapes are softly pressed and added to the wine mass, inducing a second fermentation which usually lasts 2-3 weeks.
Serving temperature: 18 ° C